7th Annual Run For Trey
Treyton's Field of Dreams 504 W Starin Road Whitewater, WI 53190

Sunday - October 15, 2017
10:00 am Start – Same day registration starts @ 8:00 am

Registration: (All registered runners/walkers receive a complimentary t-shirt. Additional t-shirts available for $10.00 each and may be ordered on the registration form.) 5K fun run/walk: $20.00 (Adults) pre-registration - $25.00 day of $15.00 (Under 18) pre-registration - $20.00 day of
The results are in follow this link.
    
Join us for this family friendly event as we raise money for Treyton's Field of Dreams!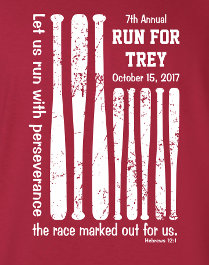 The proceeds from the 7th Annual Run for Trey will be used to fund the 2 scholarships that are given in Trey's name to 4 students (2 from Jefferson County and 2 from Walworth County) who have displayed excellent life choices.  The race also supports the endowment for the field that provides support for upgrades and repairs to the field.  The concession stand is complete and we want to thank everyone for their support.  The benefit this field provides to the youth community teams and the visiting teams from around the region is truly amazing.
Run For Trey features a 5K fun run/walk – all terrain course; dogs welcome; UW-Whitewater Perkins Stadium run
Family Fun Activities:
    Treyton Ninja Warrior obstacle course
Bounce houses
Full concession with plenty of good food
Visiting mascots
Ice cream
Face painting
Treyton Field of Dreams temporary tattoos
Balloons for the kids
…Let us run the race of perseverance that is set before us
See last years video here

---
---
---
Here is the map for the race.
---
We want to thank all of our sponsors!!
If you are interested in sponsorship please click here.
Gold Sponsors
---



---
Silver Sponsors
---
           
---
Blue Sponsors
---
---
Supporters